Well folks, tomorrow is finally November 6. For half the country tomorrow will end in triumph celebration and the other half defeat. Literally. With polling so close and a different winner predicted by every other pundit there is not clear winner in tomorrow's Presidential Election. One thing is for certain—tomorrow is going to be exciting. Each state's return will be something to talk about, scrutinize and tally in the race to 270.
Tonight the country is energized, tomorrow we'll be on pins and needles and Wednesday the complaining returns. So enjoy tomorrow while we have it—it comes once but every four years and this go round is certainly going to be one for the history books!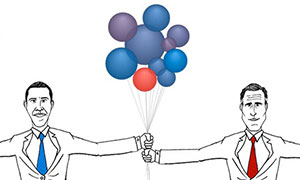 In the meantime make your predictions for toss up state results in a more-fun-than-usual electoral map:
http://tinyurl.com/cbcb7m2
. Who will carry more balloons? And for Tweeters (Twitterers? Twits?), fill out an election Mad Lib to be published based on creativity:
http://tinyurl.com/ckwhtp6
.
Now go vote, and may the odds be ever in your favor!